Corporate Travel 2030: Preparing for The Future in a Transforming Industry
PREMIUM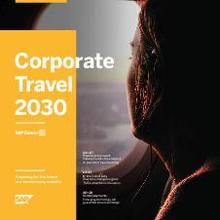 In this new world, business travel will seamlessly align with the employer's sustainability agenda, and travel costs will be optimised through the use of AI tools. Protecting all of these things will be incorruptible systems of payment and data management – most probably encapsulated using blockchain technology. Corporate travel is undergoing a radical transformation and SAP Concur is at the forefront of it. Read this report to follow our journey into the future.
Gain access to all premium content once you fill out the form.
Please share some information about yourself to receive premium information that can help you solve the major travel and expense challenges businesses face today.
Concur respects your privacy. The information you provide us is intended for internal use only, and we will not share, sell, or distribute your information. View our privacy policy. You will receive educational information and news about Concur products and services.