IDC Travel & Expense Maturity Model
PREMIUM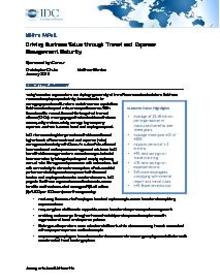 Today's modern organisations are deploying a variety of line-of-business cloud solutions that have increased employee productivity, lowered costs for managing operational functions and driven new capabilities that have direct impact on business performance. With these benefits in mind, forward-thinking chief financial officers (CFOs) are engaging with cloud solutions that can more quickly and accurately manage key company expenses, such as business travel and employee spend.
Gain access to all premium content once you fill out the form.
Please share some information about yourself to receive premium information that can help you solve the major travel and expense challenges businesses face today.
Concur respects your privacy. The information you provide us is intended for internal use only, and we will not share, sell, or distribute your information. View our privacy policy. You will receive educational information and news about Concur products and services.