The Intelligent Enterprise. Changing the face of business
PREMIUM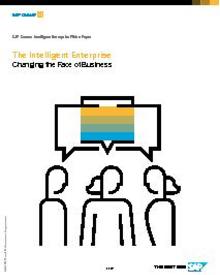 An Intelligent Enterprise includes three key capabilities: visibility, focus, and agility. Most organizations are already on a journey to build these capabilities, but intelligent technologies, such as machine learning, Internet of Things, and advanced analytics enhance their progress tremendously.
Read the white paper to learn how SAP Concur see companies reach new levels of efficiency and success.
Gain access to all premium content once you fill out the form.
Please share some information about yourself to receive premium information that can help you solve the major travel and expense challenges businesses face today.
Concur respects your privacy. The information you provide us is intended for internal use only, and we will not share, sell, or distribute your information. View our privacy policy. You will receive educational information and news about Concur products and services.