Masters of VAT
PREMIUM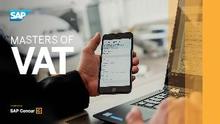 In this eBook, you'll discover the variety of ways that SAP Concur can support you in your journey to become a master of VAT. With support from SAP Concur, it doesn't have to be difficult. First, we offer an expense audit solution to check for fraud and non-compliance. Secondly, we work with tax specialists to help you comply with VAT regulations. Thirdly, we give you visibility and control over all aspects of travel and expense spending. Crucially, we see VAT reclaim as an opportunity to reduce business costs and put money back in your budget.
Gain access to all premium content once you fill out the form.
Please share some information about yourself to receive premium information that can help you solve the major travel and expense challenges businesses face today.
Concur respects your privacy. The information you provide us is intended for internal use only, and we will not share, sell, or distribute your information. View our privacy policy. You will receive educational information and news about Concur products and services.