Six ways to save on travel and expense - Find real bottom-line impact where you may not be looking
PREMIUM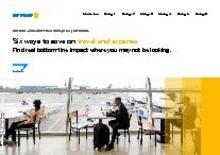 Financial leaders are always on the lookout for areas to cut costs and improve the bottom line. Inspecting business travel and expenses to uncover inefficiencies can be a very cost-effective way to unlock savings on low-hanging fruit within the business budget.
Read about six ways you can turn inefficient T&E processes and out-of-control costs into real, bottom-line savings.
Gain access to all premium content once you fill out the form.
Please share some information about yourself to receive premium information that can help you solve the major travel and expense challenges businesses face today.
Concur respects your privacy. The information you provide us is intended for internal use only, and we will not share, sell, or distribute your information. View our privacy policy. You will receive educational information and news about Concur products and services.