Systems Integration Services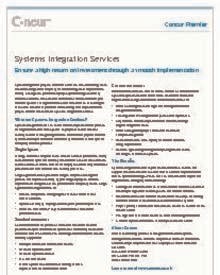 Ensure a high return on investment through a smooth implementation.
System integration projects can involve dif cult, time-consuming tasks due to the range and complexity of data management requirements. To truly leverage the powerful employee spend data generated by Concur's solutions, it is essential to load this valuable data into your nancial system. For organisations short on resources or needing to accelerate this critical path deliverable during their implementation project, Concur offers one-off Systems Integration Services.